In the human body, bones, cartilage, muscles, tendons and ligaments as well as joints of the musculoskeletal system are composed of different cell types.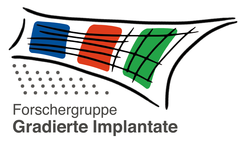 Cartilages, tendons and ligaments have low regenerative potential, which is caused by reduced delivery of blood and nerve impulses to these sites whereas bones possess a higher regenerative and self-healing capability. In order to enhance the therapeutic application of research into the skeletal system, understanding of the molecular mechanisms, which are involved in the development of different mature cell types within the musculoskeletal system, is crucial.
Research focus
The main focus of the "graded implants and regenerative strategies" group is fundamental research which will be the basis for transition from lab-based work into hospital bades medicinal implants with the aim of enhancing the medicinal approach given to patients. Therefore the group is currently located in the VIANNA (Verbund Institute für Audio Neurotechnologie, Nanobiomaterialien und Lasermedizin) institute but will be shortly relocating to the NIFE (Niedersächsisches Zentrum für Biomedizintechnik, ImplantatForschung und Entwicklung) institute early in 2016.
Currently the group focuses on two main research areas:
Graded implants

DFG-Research Group 2180: development of novel bio-degradable and multiple graded implants in order to reproduce in vivo tendon-bone transition
Improve the optimization of neuronal prosthesis

Regenerative strategies

Function of human mesenchymal stem cells (MSCs)
a) Maintenance of stem cell function
b) Development of cells within the musculoskeletal system
Under normal and inflammatory conditions (e.g. rheumatoid arthritis)
Development of optimized methods in order to isolate, cultivate and clinically utilize MSCs
Service we provide
Within our research group we have the knowledge and capability to offer the following "how to" guides. We can offer them as one to one workshops for members of your research groups or as a direct service where you send your samples to us for processing.
protein gels/western blot
cloning work with recombinant lentivirus and human MSCs
cell culture of primary cells and cell lines
Furthermore we offer the following equipment for general use:
Developing machine for films
-80°C freezer (after relocation)
Contact
Prof. Dr. rer. nat. Andrea Hoffmann
Phone: +49 (0)511 532 1442
E-Mail: hoffmann.andrea(at)mh-hannover.de
www.gradierte-implantate.de